---
---
Interesting cloud formation on yesterday afternoon's backyard tour.
---
---
Best time so far on the Butterfield loop last night. Didn't want to stop to take pics enroute, but I will say it was snowing lightly, a lot of fun, and slightly punishing. Lowest to highest point is only a 600' difference, but there's a fair amount of giving it up and gaining it back. Celebratory dinner.
---
Snow in VT is surprisingly good. Actually its better than good. Skied on Laraway Mt this morning. Plenty of coverage. Snow was stiff but not crusty. Got really nice above 2000'. Tomorrow should be another great day to get out. Where to go? So many choices
---
I agree vt_trees, the rain of last week stiffened the base below 2000'-2300', but there's a fluff coat on that and definitely turns to be had. NH woods near me has less fluff than VT woods. Above 2K is mostly just snow.
Pics from the wmnf the last two days/nights. Playing with a camera timer app, planting the phone in the snow or strapping it to trees, night shots lit with spare headlamps.
---
After a "good' day on Laraway mt on Saturday I headed back to Sterling Valley on Sunday. It's been a while since the last snow so the Upper Gorge Loop was a well beaten path. My plan was to find a better path to the ridge over to Beaver Meadow. Mission accomplished. I followed a drainage a little further up the Upper Gorge Loop than my last trip. Thanks, Strava heat map. But, this climb required skins, and I hate skins. I've become spoiled with my Vector BCs. Up and over the ridge I went, met two guys and a dog on top. Quick chat and we went our separate ways. Snow on the north facing slope was a bit granular. I tended to plane to the surface and gain more speed than I was comfortable with, considering I was on a solo tour. The south facing slope had snow that allowed me to sink more into it and keep my speed down. But, its hard to complain when you're skiing in snow up to your knees.
Did a little skjoring later in the day.
(Sorry for the wacky pic format. Posting pics here isn't super user friendly)
https://youtu.be/ZFrdUizveBk
Attachments

skjor.jpeg (17.58 KiB) Viewed 1049 times

sv vid.JPG (187.34 KiB) Viewed 1049 times

skis.jpeg (99.31 KiB) Viewed 1049 times
---
That's a super sweet amount of snow, vt_trees! Particularly comes across in the video. Let there be schuss!
I've never skijored, but have always thought that the 3 mile slog from Lincoln Woods TH to Franconia Brook Trail would be well-served by dog power.
Sunday.
Moonday night.
Last night. 60mm, 210 cm, metal edged Alpina Red Birds. Perfect for the Butterfield loop. My triceps are looking forward to fresh snow. Cannot get traction in the VAST refro granular on the ups.
Drying.
Hoarding.
Sleeping.
Leaping. (click photo for short video)
And last, but hardly least. Yesterday around the 4pm the forecast went from this.
To this!
---
It's Wednesday night and I'm already laying out my gear for Saturday morning. Too soon?
Skijoring Hound Dog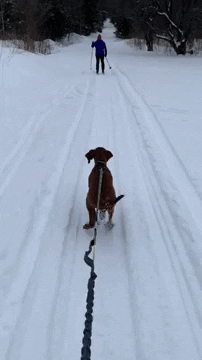 ---